After downloading the MochiMochi Kanji learning app, you might wonder how many courses are ready for you, and where you should set foot on to start the journey of learning 1000 Kanji per month. Let's find out!
How many Japanese courses MochiMochi has?
MochiMochi has 11 Japanese courses in total. Here's the list:
| Course | What to learn? |
| --- | --- |
| N5 Kanji & Vocab | More than 800 N5 Kanji and vocabulary |
| N4 Kanji & Vocab | More than 800 N4 Kanji and vocabulary |
| N3 Kanji & Vocab | More than 900 N3 Kanji and vocabulary |
| N2 Kanji & Vocab | More than 1100 N2 Kanji and vocabulary |
| Basic Conversation | Vocabulary and sentences used in daily life |
| Nursing Industry vocabulary | Words used in the nursing industry |
| Service industry vocabulary | Common customer service words |
| IT Vocabulary | More than 500 technical words |
| Minna no Nihongo N5 | Learn N5 Minna No Nihongo book's vocabulary |
| Minna no Nihongo N4 | Learn N4 Minna No Nihongo book's vocabulary |
| Basic Kanji | Learn 500 Basic Kanji through common vocabulary |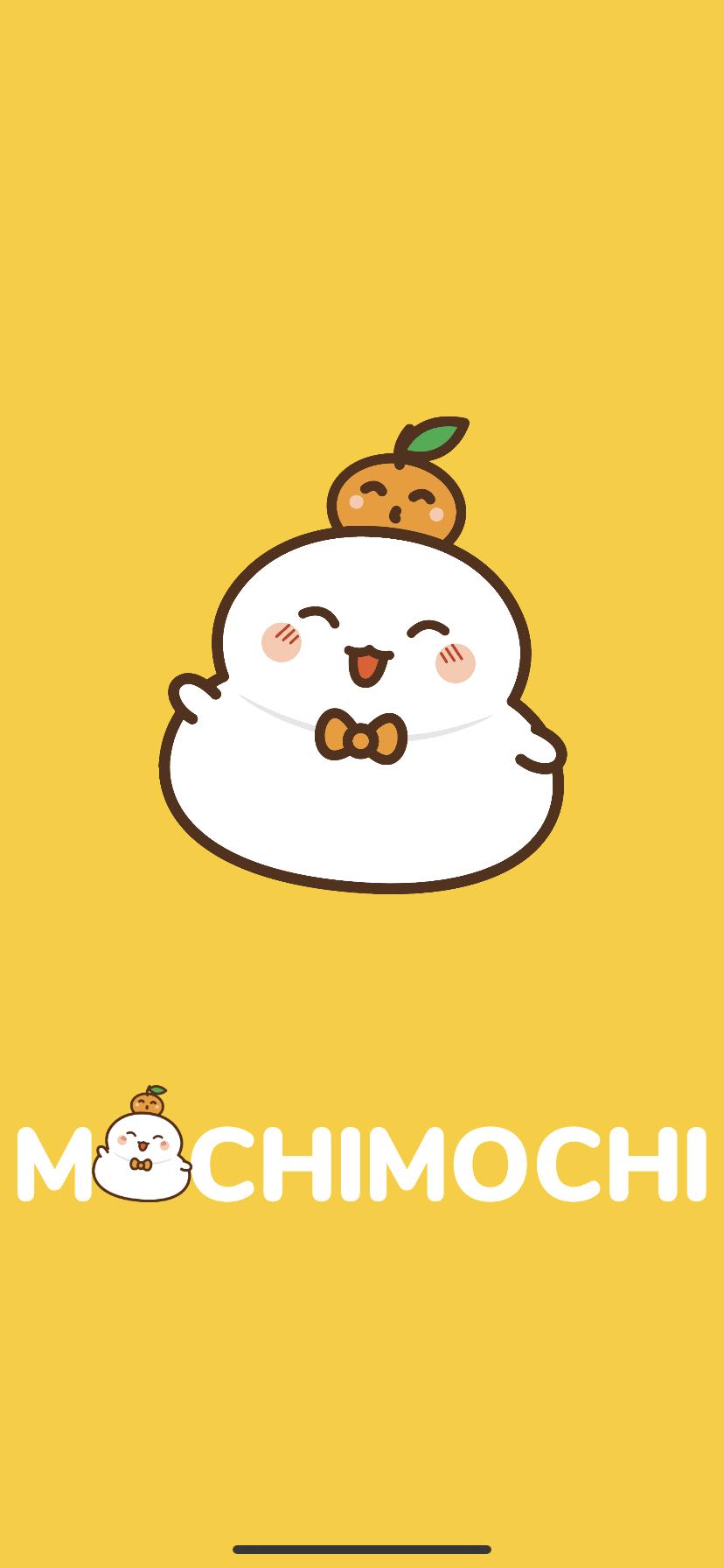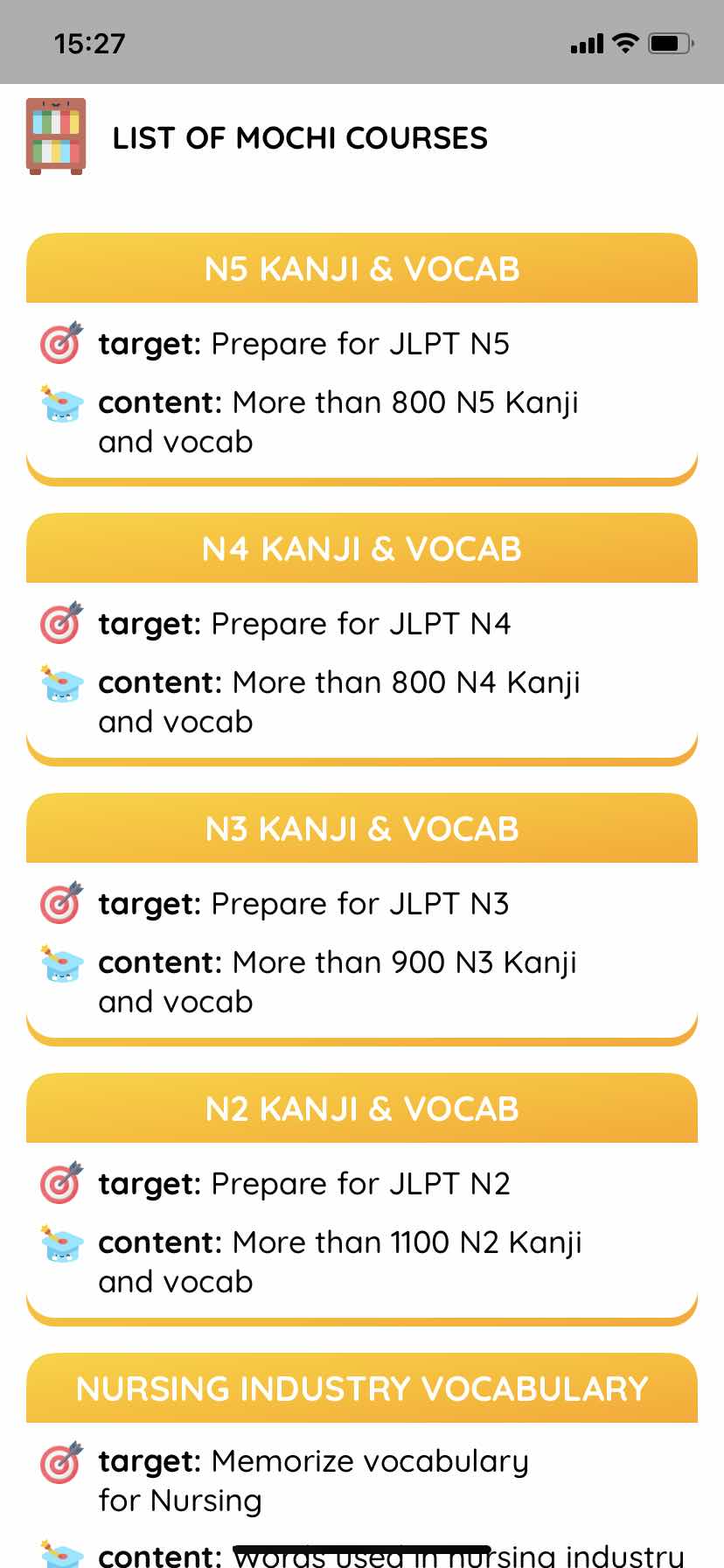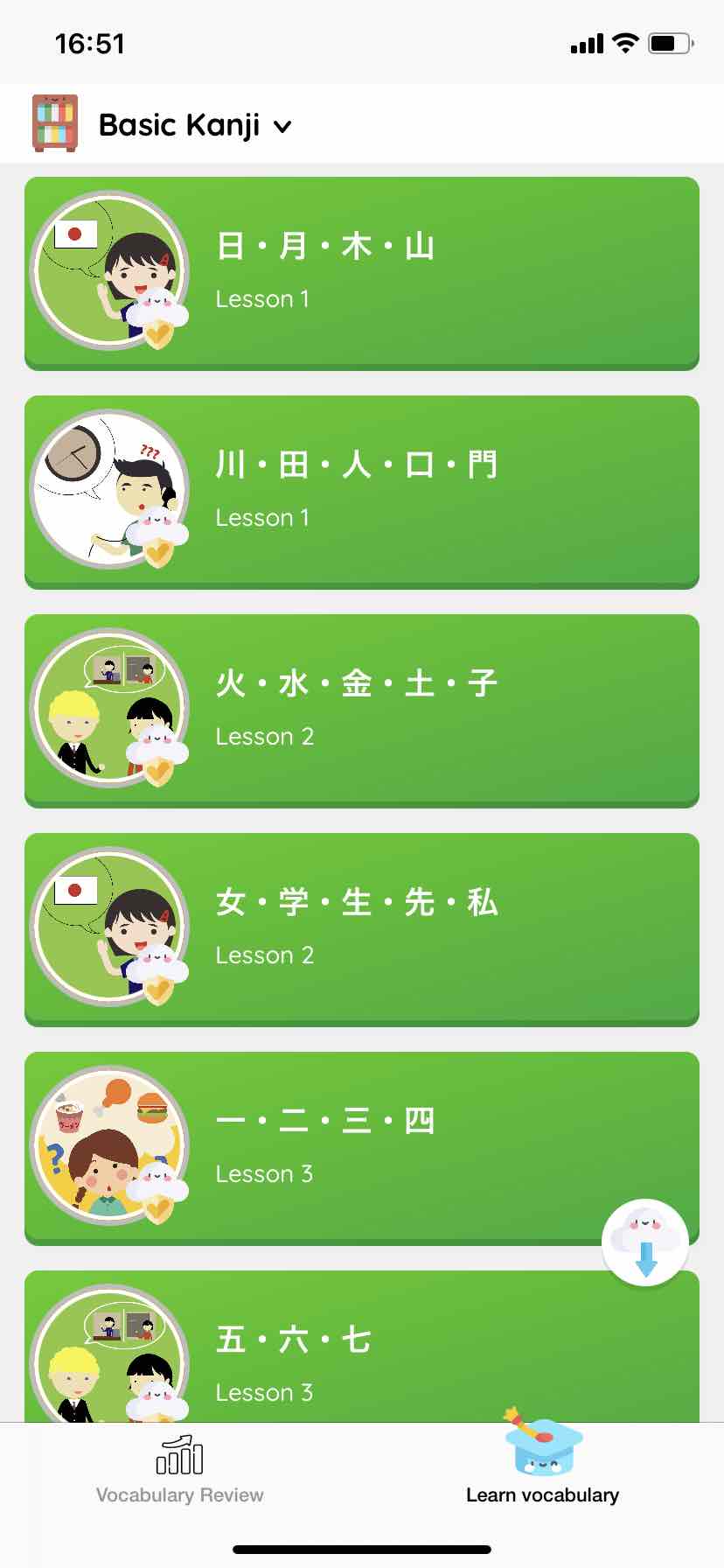 You can use a trial account with 3 first lessons of every above course. To unlock all courses, you first need to upgrade your account to a premium one. After upgrading your account and restarting the app, all MochiMochi's courses and lessons will be accessible so you are free to choose those of your interest.
---
What MochiMochi courses should I learn first?
In case you have no idea where to start, here are our suggestions:
If you are a beginner, we suggest you start with Basic conversation course. It helps you to get familiar with Japanese through basic terms and daily conversations.
If you want to prepare for Japanese standard tests, our N5 – N2 Kanji & Vocab courses is built for you!
MochiMochi also provides special courses that contain specific vocabulary to serve a particular industry, such as IT, Service industry, and Nursing industry vocabulary courses. Feel free to try it out if you are working or intend to work in these industries.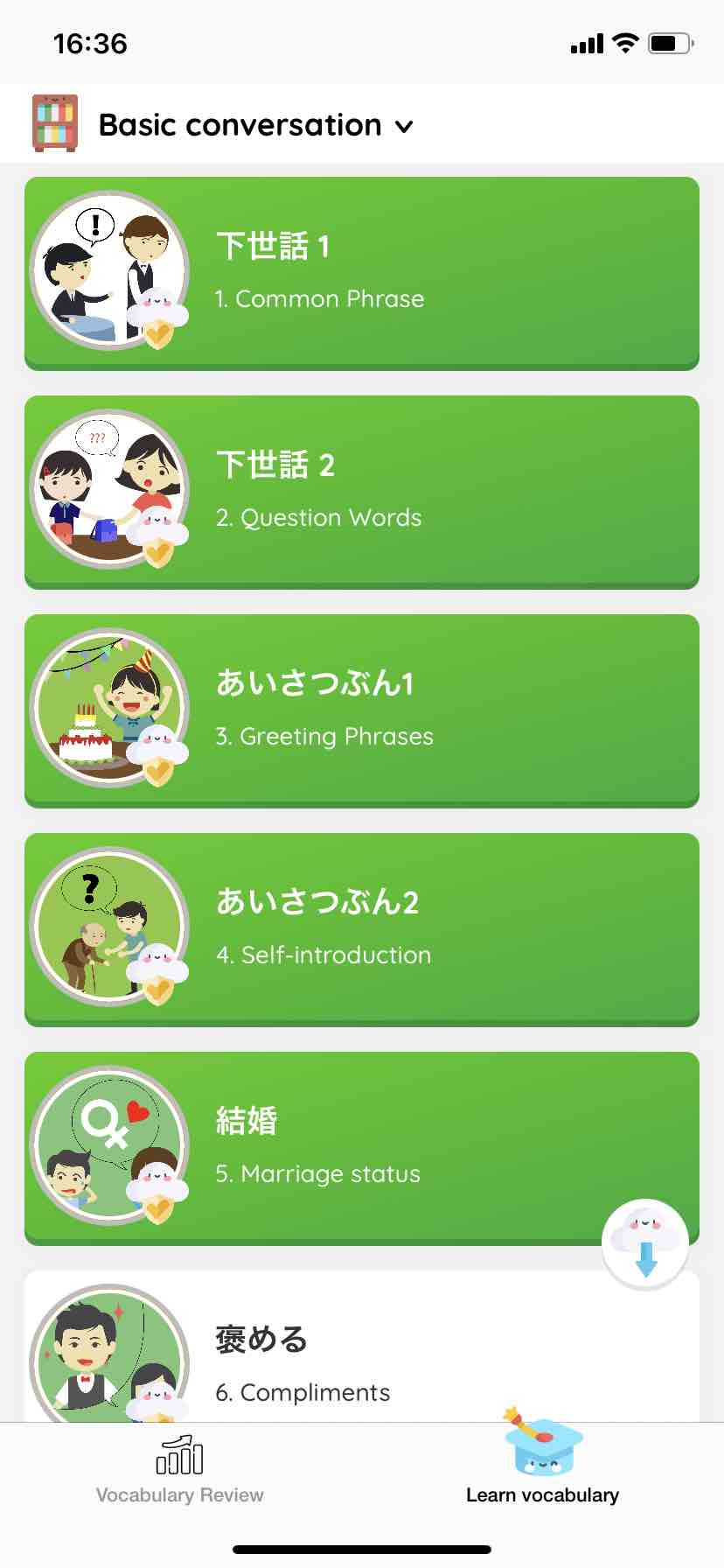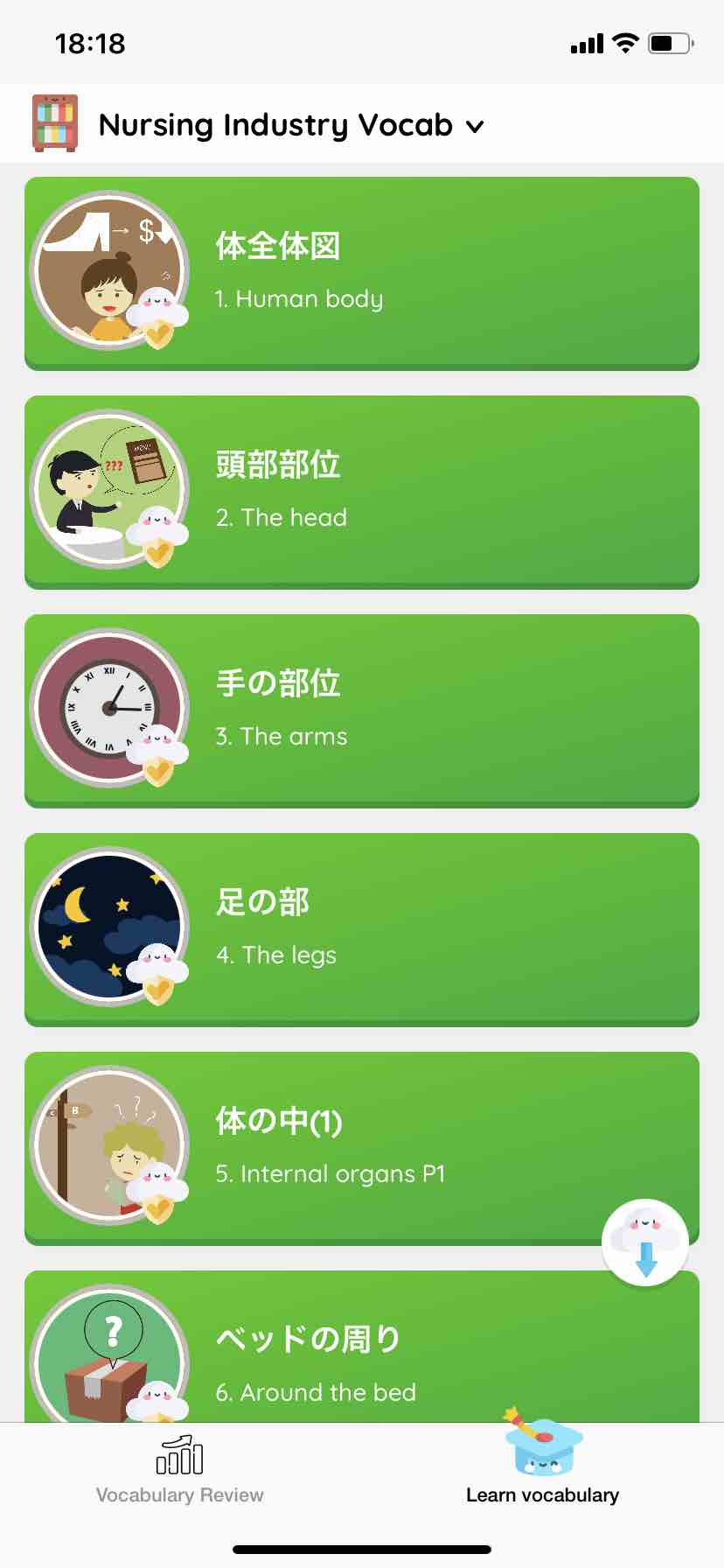 ---
Any other courses?
MochiMochi is still working on new courses and they will be available on the MochiMochi app soon. All new courses will be automatically updated for premium accounts, so stay tuned and make sure you unlock the MochiMochi premium account first.
If you want a specific course to be updated soon, let us know!
How does MochiMochi help you memorize Kanji and vocabulary effectively?
MochiMochi uses the best technique for memorization called the "Spaced-repetition method". Spaced-repetition is a method where the knowledge is reviewed with the time intervals increasing. With this method, the learner is able to place the knowledge in their long-term memory.
And how does the Spaced-repetition system work in MochiMochi?
Based on your learning history, MochiMochi will calculate the Golden time to review your Kanji and words. At that specific time, the App reminds you to run through what you learned to maximize learning efficiency. Instead of wasting a lot of time revising, you only need to follow the learning process that MochiMochi personalized for you.
Other than that, MochiMochi divided your learned words into 5 levels of memorization to help you follow your learning progress, as well as determine which words you need to spend much time on. Thanks to this system, you could spend less time in the Kanji you already knew and have more time to invest in the one you find difficult to remember.
Why does MochiMochi suit you best?
For each word or Kanji, you will learn the meaning through a digital flashcard, the way to pronounce with an audio and the example sentence. It helps you learn a word thoroughly.
MochiMochi brings to you an enjoyable learning experience with the bright and cute interface. The interactive game designs increase not only excitement but also efficiency in your learning progress.
With MochiMochi, you can easily maintain your study habits with only 15 minutes each day, anytime, anywhere.
Let's experience the best Japanese app right now.
---
Contact MochiMochi Support
Before contacting our support team, we suggest checking our FAQ page for an answer.
If your search did not yield any results, you can reach the Customer Support team via:
Tip: Be sure to include as much information as possible when describing your issue so we can help you quickly.